PGS S52 - Game 11 Vancouver vs Carolina
Vancouver Whalers vs Carolina Kraken

Final Score: Vancouver 1 - Carolina 4
Game Link
Hey there partners, it's me Clyde Cuddles, Carolina's finest here to report on Game 11 of the SMJHL Season between the Vancouver Whalers and YOUR CAROLINA KRAKEN!!! I'm Clyde, Clyde the Guy, and this is the Kraken Report.
First Period:
1. Carolina Kraken , Stirling MacTavish 2 (Velveteen Dream 1) at 12:32
2. Carolina Kraken , Alexander Wachter 1 (Michael Fitted 3, Kenny Creller 1) at 16:11
3. Vancouver Whalers , Lligma Broomstick 2 (Jacob Rizzo 1, William Hartmann 1) at 18:07
Penalties: No Penalties
What a great start for the Kraken! The boys came out ready to sink the Whalers' ship, you gotta protect that marine life y'know? #savethewhales. Anyways, this game started out pretty slow, each team was keeping each other to the outside and limiting shots. The deadlock was finally broken when the extremely underrated Stirling MacTavish intercepted a pass from defenseman Sabo Tage and took the puck the other way with linemate Velveteen Dream breaking towards the net. MacTavish sent a pass over to Dream who sent a quick one touch pass back to MacTavish who slammed home the one-timer for his second goal of the season. The Kraken followed the MacTavish goal up with another coming from none other than Alexander Wachter. This goal resulted from yet another giveaway, this time from Sven Yxskaft who had his pass intercepted by Zbignew Pokrywka who quickly moved the puck to Michael Fitted. Fitted entered the zone and completed a quick give and go with Kenny Creller. Fitted then found Wachter breaking towards the net and found his stick for the easy tap in for Wachter who was wide open. 2 minutes later, the Whalers got one back from a goal by Lligma Broomstick after a nice counterattack. The first period would end with a score of 2-1 in favor of the Kraken
Second Period:
4. Carolina Kraken , Velveteen Dream 2 (Jimmy Wagner 2, Stirling MacTavish 2) at 10:07
Penalties: Michael Lee (CAR) for Hooking (Minor) at 12:17
In the second period, the Kraken would extend their lead and hold the Whalers to only 3 shots in the period despite Vancouver's best efforts. The goal would once again come from the MacTavish line as Velveteen Dream would now find himself finishing off a pretty play created by rookie Jimmy Wagner. After receiving a breakout pass from MacTavish, Wagner would start skating up the ice, using his patented speed to power past the Vancouver defence and drive to the net, only to fool the netminder with a sweet drop pass which Dream would finish off easily. The game continued to be a clean one with the only penalty in the game so far being Michael Lee's Hooking minor at 12:17
Third Period:
5. Carolina Kraken , Scott Hamilton 1 (Zbigniew Pokrywka 4, Ben van Dijk 1) at 11:48
Penalties: Ambacas Cuddles (CAR) for Interference (Minor) at 3:21, Tommy Outlaw (VAN) for Hooking (Minor) at 9:37, Zbigniew Pokrywka (CAR) for Tripping (Minor) at 12:09, Velveteen Dream (CAR) for Hooking (Minor) at 15:33
The Carolina Kraken would extend the lead as rookie Scotty Hamilton would score on the breakaway to collect the first goal of his pro hockey career. Congrats Scotty! Ben van Dijk also picked up his first career point, getting a secondary assist on the goal. Pokrywka, who received the puck from van Dijk on the breakout and found Hamilton breaking up the middle. Hamilton finished off the breakaway with a calm finish with a shot through the netminder's five-hole. The game got more chippy in this period, as Carolina would take 3 penalties to Vancouver's 1.
End of game: Carolina 4 - Vancouver 1
Three Stars:
1 - Stirling MacTavish (CAR) - 1G, 1A, 2P, +2
2 - Velveteen Dream (CAR) - 1G, 1A, 2P, 2 PIMS, +2
3 - Alexander Wachter (CAR) - 1G, 1P, +1
crutch,May 30 2018, 10:44 PM Wrote:don't worry, it's just trella, all bark and no bite
7's Turning Point of the Game: (131 words)
This game never really felt like it was out of Carolina's control. They dictated the pace of play from the get-go, out shot Vancouver in both the first two periods, and kept the number of shots low once taking the lead. Vancouver was struggling to find a foothold from the very beginning, and finally thought they might have found something on their first power play of the night in the second period. Two shots, one reaching the net early on in the man advantage seemed promising, but a pair of errant passes led to a pair of icings while still up a skater and that took all the air out of the Whalers' special teams unit. They only managed 6 shot on net over the 4 power plays on the night.
7's Unsung Hero of the Game: (106 words)
Michael Fitted was the Kraken's answer to their lack of discipline tonight. Logging 5:17 on the penalty kill, all in the second half of the game was critical to Carolina holding on to, and increasing their lead tonight. Beyond that, the 2C won 14 of 21 face offs tonight, effectively stifling a lot of a Whalers' offense that is desperate to make something happen offensively (outscored 12-5 so far this season). Fitted did a lot this game in controlling the tempo of play, and keeping Carolina in control of every situation. He even had an assist tonight to get Watcher his first of the season.
7's Rookie to Watch: (135 words)
Jimmy. Fucking. Wagner. Look at this drop pass after drawing the Whaler defender up to him.
The rookie speedster is bringing insane energy to an already skilled line with MacTavish and Dream. His ability to accelerate into the zone with the puck and be a threat to get to drive towards the net is opening up tons of space early on this season. Teams just don't seem prepared for how much athleticism is coming out of Carolina's third line right now, and this line is firing on all cylinders to start this season. The trio has 5 goals (and 5 assists) in the first three games and are a prime example of the immense depth in the Kraken's forward rotation. Wagner is already one of the fastest in the league, and it's paying massive dividends.
Save of the game!
Even though Vancouver goaltender Joe Simpson didn't have the best game, the game could have been even uglier if it wasn't for this amazing save. Early in the first period forward Stirling MacTavish had a open net after Carolina had huge pressure in the Vancouver end but Simpson somehow got his stick in front of the puck. Just watch how camly Joe Simpson catches the puck with his glove after making the save. This type of stuff should be illegal. Talking about absolute robbery! While MacTavish skated back to the bench his head held down, you could feel the disbelief in the arena on about what just had happened.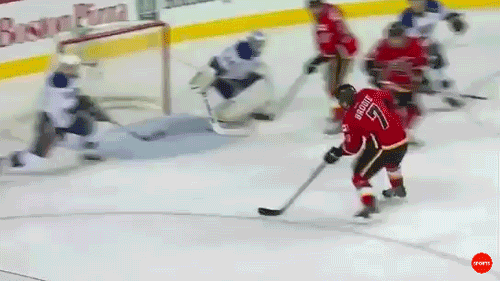 Vancouver were really let down by their goaltending and power play lines in what should have been a very close game. Carolina wound up winning by a 4-1 tally despite committing four penalties and having a nearly even split with Vancouver in terms of shots. Had Vancouver's goalie, Joe Simpson, been up to the task in this one, they might have found themselves within striking distance. Alas, Simpson posted a putrid 79% save rate and Carolina ran away with it. On top of that, Vancouver going 0-for-4 on the power play didn't provide Simpson with much breathing room. The Rizzo/Slapskinnen/Hartmann line that sees the majority of the Whalers' power play time has to be kicking themselves after this one. A bit better performance in goal and a better effort on the power play and the Whalers could have made a game of this. Still, kudos to Carolina for what could have just as easily been outstanding shooting and penalty killing.
Users browsing this thread:
1 Guest(s)