S53 SMJHL PT #1 - Learning the Locker Room
A good sit down with my Captain, Jimmy Wagner @
sve7en
1. How does this year's Kraken team look to you in comparison with other teams you've been on?
- Obviously the team is a lot younger. Half the team was in their third or fourth years last year and now it's half rookies and only one guy in his third season. The energy in the locker room is similar though and that has me excited and optimistic
2. How has your time with Carolina lived up to your expectations?
- It's definitely exceeded it. Both coming into the league and once I was drafted. I had no idea what to expect from any team leading up to the draft, but finding them to be so engaging and fun to be around definitely helped the transition. Once drafted though, I realized I was the only guy in the locker room not a veteran or re-create. They didn't treat me any differently and honestly really embraced me and encouraged me to get involved.
3. Lastly, being brand new essentially, does it excite you to be entering a new era of SHL with FHM taking over as the sim? Perhaps you don't feel as behind the ball as you would've with STHS?
- Oh definitely, I feel like my class, your class and the class before mine are in the best spot where we'll hit our stride in the SHL as GMs really get the hang of things too. I also love that I can really build the player that I want to and have it really matter where those didn't always ring true in STHS.
Cheers!
Kwame Dakari - 95 - Carolina Kraken - S54
During preseason a lot of former players love to stop in to relive the glory days of the past. It's a good time to pick some brains and get great pointers for navigating the team, as well as the city, as a teenager.
This morning a familiar face stopped by. Falcon legend and, friend of my brother, Flaco Lagerfield. @
JSS
I took the opportunity to just shoot the shit with him.
Me: can I ask you a couple of questions? Coach gave me homework.
Flaco: sure thing lil fanto.
Me: how was your time here on the ice?
FL: I played with a bunch of scrubs up until the Season 43 class came around. It was me and Lightning Jones with Primeau carrying the franchise into relevancy.
Me: any pointers for a baby bird?
FL: Make sure to make fun of Tatu Makela. @
WannabeFinn
Me: one last selfish question. How was playing with my brother?
FL: He was a top notch player and fella in the locker room. Top 5 teammate of my career.
Me: thanks for taking the time.
FL: no problem John.
I caught up with Anchorage alum Andrei Petrikov, who also happens to be the older brother of fellow rookie Alexei Petrikov.
(Thanks to @
mdubz
for the interview!)
Question #1:
What would I find in your fridge right now?
Nothing too exciting, just the standard stuff that won't expire if we are out on a road trip for a while.
Question #2:
What's the largest mammal you think you could knock out with a single punch?
A human I guess? Since I've actually done that before.
Question #3:
Do you think you could beat your brother Alexei in a fight?
We're brothers, we fight all the time. They're just good natured fights though, not sure who would win if we were being serious.
Bonus Question:
What's your opinion of our general manager?
Acsolap is a great general manager. I think a lot of people look at his cup wins as a metric, and I really don't think that's fair to him. I look at locker room activity as more of a team metric, and he's doing a great job there.
Reached out to @
LordBirdman
and he graciously accepted and answered my questions.
1. What are your predictions for the Colorado Raptors this season?
I'm predicting we finish 1st or 2nd in our conference and make a deep playoff run. We have a talented core of players and made some great additions in the draft and through recent signings. As our rookies continue to improve over the season I think we will be a really scary team come playoff time. We definitely have a shot at the cup, but I don't want to predict that (bad luck).
2. What is your favourite part of being in the SHL/SMJHL? 
My favorite part is the community of cool people and getting to build a player and check my stats. There are a ton of really cool and nice people on the site, and the LR is always a friendly place to talk about hockey and random things in life. Checking our game results and my players stats is another really fun part, you work hard to build your player and get to see the payoff over time as they improve and start contributing to team success which is a ton of fun.
3. What is your favourite hockey player and what is your favourite team(IRL)?
My favorite team is the Boston Bruins, being a Boston native. Honestly I'm not sure who my favorite player is. I think I'd have to say Patrice Bergeron. He plays such a solid two way game and is an awesome dude on and off the ice. He's super talented and has a 6th sense for where to be on the ice, super fun guy to watch play the game.
Spoke to 
Sasha Dangelchek
in a private interview
How do you think the Scarecrow will fare this season? 
Scarecrows are going to go all the way. We have a solid veteran core and a promising crop of young rookies coming in. We also have a brick wall goaltender in Doyle.
What's your favorite SHL team? 
My favorite SHL team is New England. Mostly because they drafted me, but they also have the talent to go all the way.
Who has the best name of the current rookie class?
And the best name of the rookie class is obviously Grapefruit Lizard. It's like a weird indie band name or something.
Alexei Petrikov recently sat down with PGF alumni, former teammate to his father, and current Toronto employee Mikhail Lokitonov to reminisce about the old days and learn a bit more about him.
What was it like playing with my dad, and since you never played together in toronto, training with my brother?
Your dad and I played a lot of games together and it was a privilege to to get to play with him. One of the best defenseman the SMJHL has ever had in its ranks. Your brother was a talented young player and it's a shame we never got to play a competitive game together, but training was always fun with him around the locker room.
What's your favorite thing about the locker room in Anchorage?
It's always so lively. The people are all so great and I have made so many great friends in Anchorage and it'll always hold a very special place in my heart.
What's your favorite style of American pizza?
New York style I guess. Not a big fan of Chicago soup pizza. Deep dish is tomato soup in a bread bowl.
Thanks @
ml002
for the answers
Had the opportunity to ask Anaheim Outlaws vet, Ethan Price. He had this advice to pass along.
Where would you recommend I grab a pre game meal?
I'd highly recommend Mimi's Cafe down near Garden Grove. It's one of the best breakfast places in the city, I assure you that you'll want to keep coming back after visiting.

What song gets you going before a game?
This is an easy one, there's no other answer apart for 'The Final Countdown' by Europe. It absolutely gets you in the zone before puck drop.
My first career SMJHL game is coming up, and it's a big moment in my career. From someone who has been through it, any tips on managing the emotion and what to expect from the fans?
This one is a bit tricky to answer because everyone handles it a bit differently. I'd say that you just really need to go into the game with a clear mind and try not to worry too much about trying to show off in your debut. Of course you'll want to try your hardest, but you don't want to try to get flashy and make some costly mistakes. The first game of the season will be at home which is awesome for you! Our home fans are fantastic and will really be rooting for you when you make your debut.
I want to be just like @
Smalinowski7
when I grow up so I asked three questions to get a better idea on how to do that.
What is your number-one tip to the new defense core in Newfoundland?
This is actually a tough question with the switch over to FHM, since no one exactly knows what builds will be good in FHM. I would say best advice in terms of performance would be that physical and skating stats seem to have more importance than people would think. Also see if you can bug SD or me (I just impulse bought the game), to test out a few different build updates before you apply the TPE. Best non-performance advice is that our LR has gotten about twice as active since I joined, so come hang out (as I know you already do) cause it's a great place now-a-days.
Glancing over your media history and you go the extra mile (to say the least) in your work. How much time does it take to find all your data and make lovely charts?
It actually doesn't take as long as one might think. I've been using the R programming language for work a lot, so I can scrape the data from the site and make graphs relatively quickly. The newest media piece from yesterday is part of what will be a recurring theme, so I've written the full code and can get up to date stats and graphs pretty much within a minute of new games being added to the index. But the full code did take at least 3ish hours to put together. It's actually the brainstorming of 'what graph would look nice here' that's the hardest
let me go look at all the steve's lol
Please rank the Newfoundland Steves to determine which Steve is best. Please explain how you assessed the Steves
Steve rank list:
1) Harrington
2) Toast
3) LeGrande
4) mstevens
4) Vassallo
Steve's were ranked purely on looks









Rookie Guy LeGrande chats with veteran player Ryuuji Minamino
GL- What's the best advice you could give a rookie coming into the league?
RM- Take advantage of getting to know the people in your locker room since they'll likely be the people you will spend the most time with for the first chunk of your career. Whether that's asking questions, just chatting or hanging out with them, it will definitely make more of a comfortable place to be until it basically becomes
your
locker room.
GL- How long does it take most young players to make an impact on the team?
RM- Really depends on the position you are put in. I know for myself just with numbers I started off a little lower on the 4th line last season but keeping with it means that this season will be a huge opportunity to produce. For teams who will have your players stepping into key roles early (I think like yourself) means that right off the bat you will have those chances to make an impact. The actual results will probably grow as the season goes on which is an exciting part of the first year.
GL- What's the best position to start out in the league?
RM- I would go either center or defense if we're talking about player positions. There's always a need for these for whatever reason even though there's serious benefits like have more ice time, more metrics to measure your player and build variety compared to wingers and goalies, which have a more straightforward role.
GL- Thanks for the chat, was helpful.
Tinke decided to interview veteran Slatt Potts
Tinke: As you were drafted before the team rebranded, what did you think of the rebranding?
Slatt: I'm a big fan of the rebranding. The team name Berserkers is something different. On top of that the branding is great, I love the teams two logos.
Tinke: With new rebranding comes a new management, Do you think JNH and SD have done a good job with the team?
Slatt: JNH and SD have done a great job in every aspect of managing the team. They've built a great environment that is inviting for all, and for many creates one that keeps having them wanting to come back and be active constantly. On top of all that, we've had some great drafts as of late and are constantly adding great new additions to the LR, all thanks to our GM's.
Tinke: Who is your favorite person in locker room and why?
Slatt: I have too many favorites in the LR, like I said with the environment that has been built it's allowed me to interact with many teammates on a consistent basis. I'd say the ones that I know the best are JNH, SD, Steve, Juke and Ham. However, all my teammates are great people and I look forward to developing good relationships with everyone, including you S54 guys!
Tinke: Thank you for this interview!
Slatt: My pleasure
                                                 Thanks, Mayuu, JSS, Danny and Wasty!!! (Gif made by myself)
For this point task, I reached out to our captain, Potts;
1) What is your favorite thing about Newfoundland?
I love the inviting environment that we have in our locker room. From the management to the rookies, everyone is a great asset, and i'm even more stoked now to have you apart of our great team. Something that's so special is that you don't know how close we are as a team unless you are lucky enough to experience it firsthand.
2) What would you tell a young, blossoming rookie playing in the SMJHL for the first time?
Ask questions. As it is, if you have a good management team (which we do) not only should you ask anything you may want to know, but they also usually set you up for success, we have tons of players always posting TPE opportunities, so if you put in that effort to be active your teammates and management will be there to set you up for success. You just gotta give yourself the opportunity!
3) What are your expectations for the Berserkers this season?
Our team is definitely young but it's very talented. We got some great forwards with Harrington and Minamino (I guess i'm pretty good too :wink: ) and we also have a solid start on defense, anchored by Jukka Timonen. We have a lot of rookies too who I think will develop greatly throughout this season. Ideally, we finish somewhere in the middle of the league as a whole, but i'm REALLY looking forward to next season, which is also unfortunately my last.
sig by jnh


artermis,Feb 2 2017, 04:11 PM Wrote:9gag pretty lit tho
Cale Amundson had the pleasure of sitting down with second-year vet, Ryuuji Minaminu @
Nhamlet
<3
1. Setting an example when it comes to being open, personable and all around a good person. Sounds a little cheesy but as much as we'll enjoy seeing our stats and sims the best part for me is the people you get to interact with along the way. Having great people will only make it a more enjoyable experience for everybody.
2. Can I just say winning it all or is that too lofty? Realistically, I think winning a round (assuming it's not Detroit) is big. Beating Detroit in a 7 game series should mean that we get the cup anyways.
3. This would've been my answer regardless of whoever asked but I think goaltending. Unfortunately we've been plagued with some inconsistent performances last season and sounds like it's extended for a few seasons for this team now. Hoping that all is changing starting this season!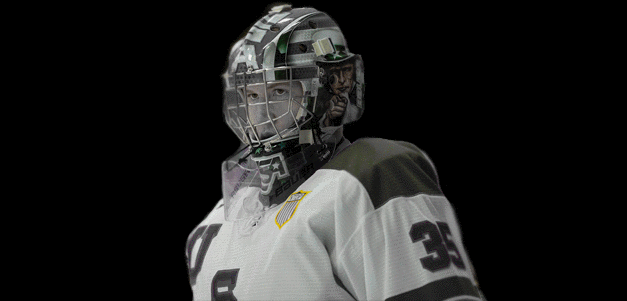 Elwulf Jericson reached out to his new Captain, Danny Marston (@
Capt_Blitzkrieg
) for some advice and expectations playing for the St. Louis Scarecrows.
EJ: Having been in St. Louis for a couple of seasons, how has it been playing out front of this crowd?
DM: The Scarecrows faithful are amazing. They're all but on the ice, they're so invested. It's kind of hard to hear the goal buzzer over the crowd sometimes. Always a packed house with everybody stomping and yelling and clapping. I never dreamed of anything like it as a kid.
EJ: As our new captain, what are you expecting out of the team?
DM: The letter hasn't changed the expectations. Ending last season as close to the Cup as we did, the goal is to go the distance and actually win this time. The expectation and requirement to meet that goal is everybody training well and playing hard.
EJ: Finally, outside of hockey, what do you recommend to do around the city?
DM: 
I love the parks. In particular, the botanical garden a few blocks away from the Enterprise Center does dog friendly days, so my dog and I take a walk. He likes to chase the butterflies.
I asked @cpetrella some questions about what I should be expecting. Now being a brand new player some of my questions might seem a bit wacky, however I think it is some vital information for me to learn.
1. My first question is about your player, their name, where they were from, their time in the SMJHL (and SHL).
My player's name is Ambacas Cuddles, from the legendary Land of Gumba. He is currently in his 2nd season in the SMJHL and was just drafted 2nd overall to the Tampa Bay Barracuda.
2. My next question is, What would you suggest a first time rookie focus's on throughout the season. 
As a first gen, focus on bonding with your teammates and other members of your draft class. The people you meet are the best part of this league and there are many people I have met through this site which I consider very good friends.
3. Lastly, What should I expect from the coaching staff here in Carolina?
The coaching staff in Carolina is probably the hardest working in the juniors. We test tirelessly in order to find the best like combos. We will always do our best to help the team and every player succeed.
Users browsing this thread:
1 Guest(s)