[BLUELINE BREAKDOWN] Western Conference
Welcome to 
BLUELINE
BREAKDOWN
, a small project I'm going to be working on to compile a report on most of the S56 draft-eligible defensemen in the SMJHL. We'll be starting in the Western Conference, as it's the one I've been able to observe most so far into the season. These ratings and stats are counted before the Aug. 11 sims, so keep that in mind. TPE is whatever the most recent proposed update is at the time of writing. Games played at the time of writing are around 25-27 for all players discussed.

We're going to go alphabetically through the teams and check out the 10 rookie defensemen in the West, and ultimately do some power rankings based solely on statistics, TPE and ratings. Whether or not the player is a recreate or a fresh account will not come into play here, despite it having more of an effect than almost anything else on draft night. This is just an evaluation of how these defenders are building and simming.
---
Karl Schaeufelberger, #25, Anaheim Outlaws (212 TPE) @dylanjj37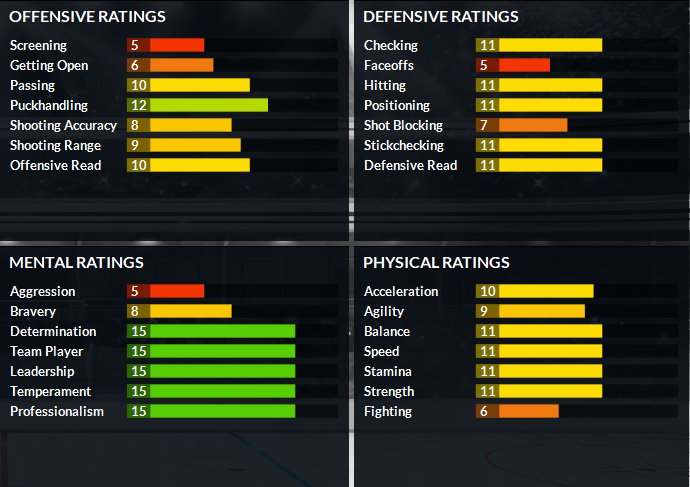 Here we have our first player on the list, Karl... Shuffelburger. I'm not even going to try to learn how to say that one.
Karl is playing on the third pairing and third penalty killing line for Anaheim. Despite the defensive build and deployment,
Karl has racked up 2 goals, 8 assists, 10 PIM, and a minus-5 so far in his 26-game SMJHL career, accompanied by a
46 OGR and 59 DGR on just 14:54 ATOI.

With 212 TPE to his name in one massive update, it's hard to project Karl. Right now, though, his stats speak for themselves as
a valuable crease-clearing D-man with a willingness to chip in on the offensive end.
Michael Withecheck, #2, Anchorage Armada (235 TPE) @sakrosankt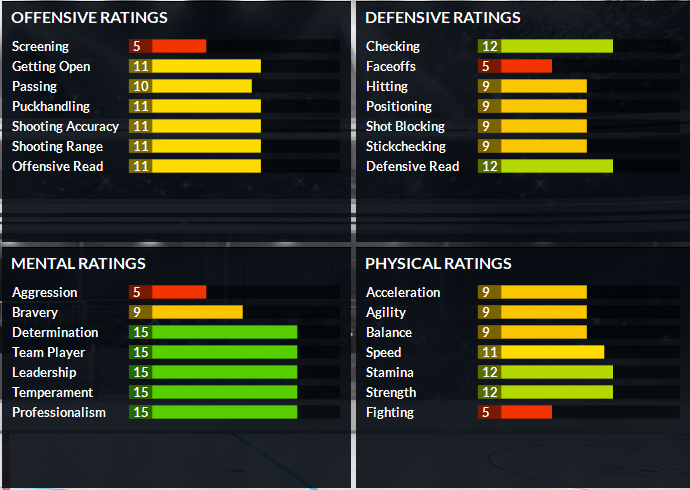 Michael Withecheck is currently playing on the third pair for Anchorage, as well as on the right point for the first powerplay unit
and on the third penalty kill line. This broad deployment has ended up giving the rookie 20:08 ATOI, in which he has piled up
3 goals and 8 assists, as well as 10 PIM and a plus-6 rating on the year so far.

The hulking 6'4", 230lbs defender has maintained a 52OGR and 58DGR with an offensive-leaning strength build.
Padding out some essentials on the defensive side of things could be huge for his overall effectiveness. His team
clearly trusts him, having played him all over the ice in almost any situation.
Mikhael Petrov, #0, Kelowna Knights (237 TPE) @to12143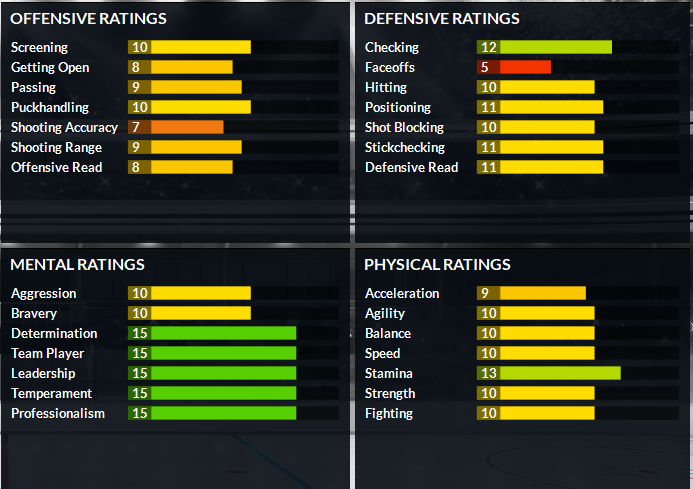 Seeing a Petrov on this list should come as no surprise to anyone. They're like ants. They get everywhere.
Mikhael has put in two massive updates so far and has decided to go for a heavily defense-oriented build
with some extra stamina. So far, he's been playing 17:06 ATOI with 1 goal and 5 assists to his name, as
well as a plus-9 rating and 9 PIM. 

Petrovs are as consistent as the day is long. This guy is established in his role and loves to help the team
from the back end. Playing third-pairing minutes on top of second-line penalty kill duties has been certainly
manageable for the young Mikhael. Don't let the 51 OGR and 55 DGR fool you, this guy is going to be as
good as they come as a shutdown rearguard.
Tanjiro Kamado, #18, Nevada Battleborn (237 TPE) @Andy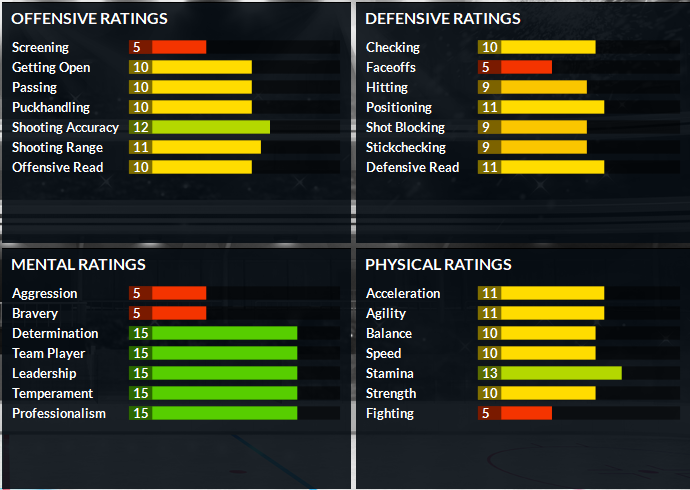 Finally a chance to talk about some teammates of mine. I could go on all day about this group of players, but
let's try to keep it short for now. Kamado currently has 2 goals and 7 assists, 14 PIM and a minus-5 rating.
Don't let the plus/minus fool you, this guy is a rock in his own end. He's currently maintaining a 70 DGR to go
along with his 57 OGR.

Kamado is also playing on the second line and enjoying some powerplay and penalty kill time to boot,
culminating into a class-leading 22:11 ATOI on the season. The coaches love having this guy on the ice
in all situations. His shifty, two-way build is a cure-all for any team in need of a blueliner.
Sachimo Zoidberg III, #43, Nevada Battleborn (242 TPE) @Jala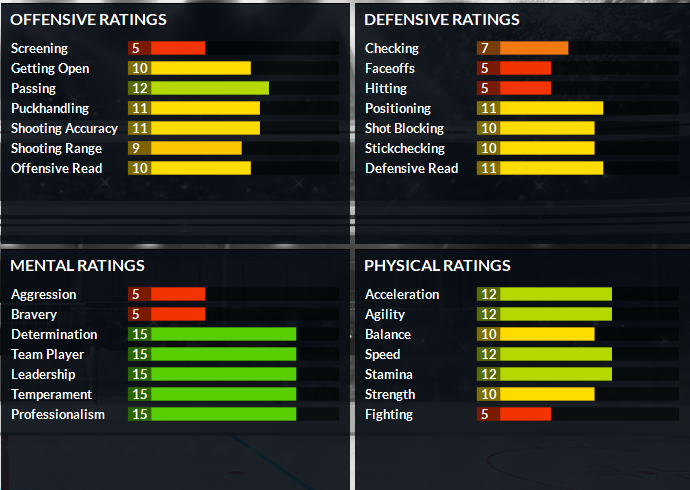 Zoidberg is the premier breakout star from the back end of Nevada. In addition to putting up 2 goals and 6 assists,
Sachimo has been one of the best defensively rated players in the entire SMJHL with a 75DGR to go along with his
57 OGR. Zoidberg is Nevada's powerplay specialist, clocking 3:13 of his first-line 21:14 ATOI on the powerplay with 1:12 of that
being shorthanded time.

With a build that leans more towards physical ratings, Zoidberg stands to polish his raw talent. This guy is going to be
a monster for a long time.
Bane, #3, Nevada Battleborn (258 TPE) @Winter is Coming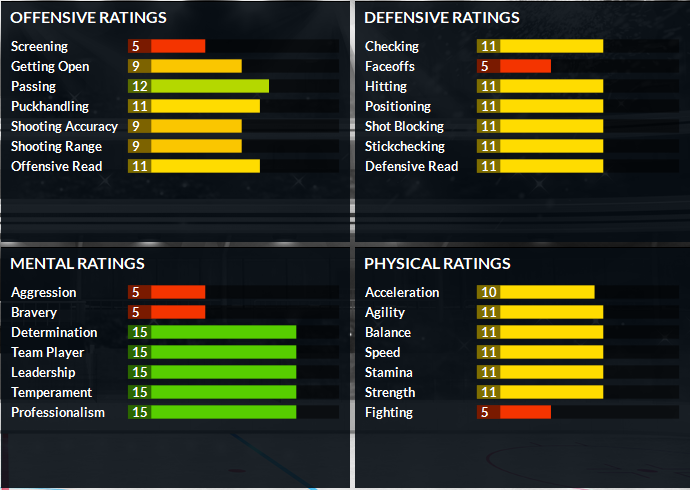 Bane is a beast, sitting at 258 TPE. His build is balanced all around to a point that he's one of the more
potent offensive and defensive threats on the Nevada blue line. Currently playing 14:55 ATOI third-line minutes, Bane
has been simming quite well with a 50 OGR and 63 DGR. Bane has been a healthy addition to the Nevada penalty kill,
where he plays 1:54 a game.

While the offense hasn't quite been there for Bane, only tallying 2 goals and 2 assists, few players on this list
have a build that I would say is more useful than Bane's. The dude does it all.
Villi Afalava, #24, Nevada Battleborn (210 TPE) @Wasty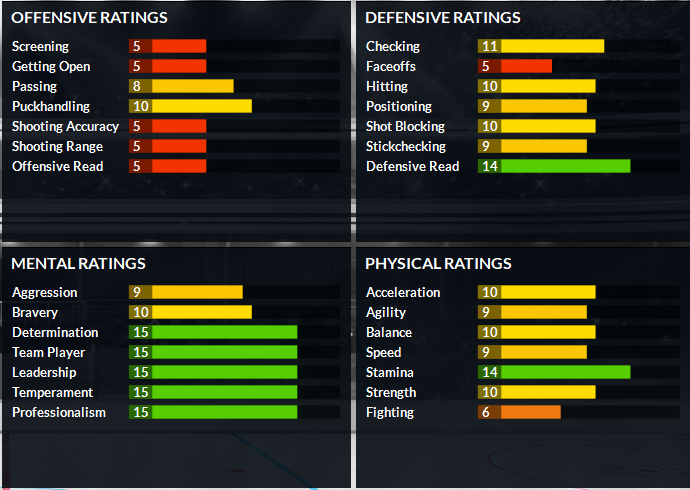 Villi Afalava, a very pure defensive defenseman, has been rock solid so far in S55. With 5 assists,
55 hits, 51 blocked shots, and a class-leading 20 takeaways, Villi has been arguably the best pure
defender in the class. Showcasing excellent stamina and versatility, he's been playing 21:58 per game
with 2:03 of it coming on the man-advantage and 2:11 on the penalty kill.
Villi has been one of Nevada's driving forces in an effort to improve team defense. If the SMJHL selected
All-Defensive Teams, Afalava would be on the first squad with his 62 DGR and incredible peripheral numbers.
Sarah Burke, #5, Vancouver Whalers (255 TPE) @Kyamprac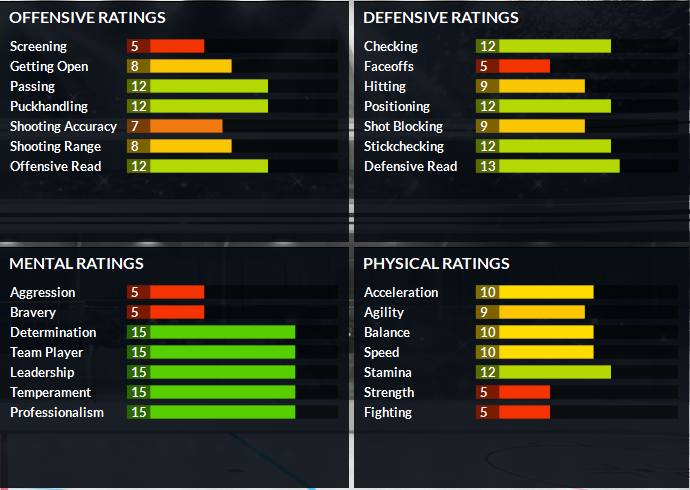 Sarah Burke is building as an absolutely monstrous two-way force. Playing 17:31 ATOI with 1:51 on
the penalty kill, Vancouver is confident in her abilities to defend the zone. Saddled with 1 goal and 3
assists to this point in the season, Burke is settling into a primary defender position on the Whalers.

With a very respectable 51 OGR and 57 DGR and as a positive impact player in terms of shot generation,
Sarah Burke is going to become a prime lockdown presence in the SHL.
Zebulon Leavitt, #24, Vancouver Whalers (232 TPE) @Kraagenskul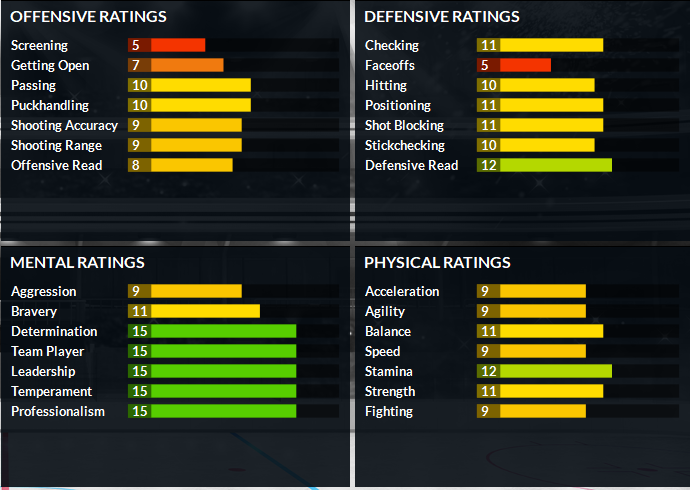 Zebulon Leavitt. What a name. Vulcan + Bronx. This guy is another big, beefy, energy 
guy.
You can see that he bucked the trend of largely ignoring Aggression and Bravery. I love it.
You know this player is going to be keeping the air electric with big hits, corner battles, and a damn
passionate 
forecheck. This guy is playing 17:49 ATOI with 2:10 on the penalty kill. His energy is
apparent with his 37 blocked shots, 57 hits, and 66 DGR. 
Currently playing on the third line for Vancouver with Sarah Burke, Zebulon manages to make his
presence more than apparent on the ice, in a way that the scoresheet can't show.
Grandmaster Funk, #55, Nevada Battleborn (228 TPE) @funk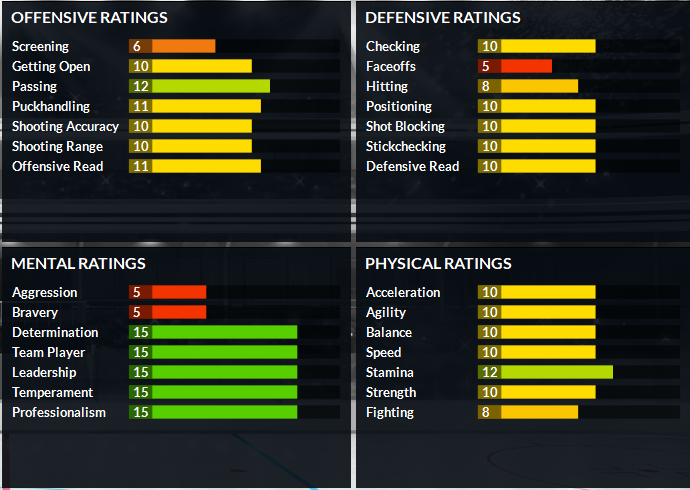 Grandmaster Funk has been a powerhouse on both ends of the ice, having tallied 3 goals and 5 assists
with 35 hits, and 51 shots blocked. Funk's 15 takeaways are good for 2nd among defensemen in the class,
behind only teammate Villi Afalava. Funk is holding a modest 52 OGR and an impressive 73 DGR while playing
18:38 ATOI on Nevada's third pairing and top penalty kill line.
As Funk develops both the defensive and offensive sides of his game, look for him to become a positionally-
responsible puck-moving rearguard and one of the premiere two-way forces in the SHL...
But that's just what I think
---
Thanks for reading! I know this wasn't the most valuable scouting kit, but I had a lot of fun looking into the
rest of the rookie class' blueliners. There are a lot more really great players than I thought, and it's great to see
all the different builds at play.
1442 words, ready for grading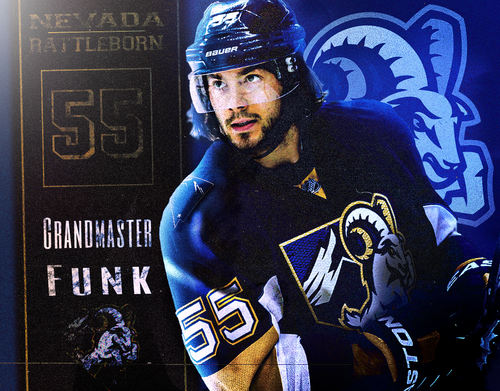 BRI
 | GP: 
12
 | G: 1 | A:
 5
 | PTS: 
6
 | P/M: -2
 | PIM: 2 | S: 
26
 | HIT: 15
 | BLK: 10
 | GvA: 4 | Tk
A: 2
 |
Fun read! Looks like it took a ton of work too.
Users browsing this thread:
1 Guest(s)