Activity Check #361
spifakjlegHJIOegawh FOIUqhfjyklEW
Thanks @Wasty, @Carpy48, @Turd Ferguson, @Nokazoa for the sigs
|

|

|
|
Team Canada's Official Mascot
First SHL Goal :
https://simulationhockey.com/games/shl/S51/Season/SHL-19.html
JURT

Code:
2;1154;Wrap-around try by Jean-Uhtred Ragnarsson-Tremblay...
2;1154;Ragnar-Alexandre Ragnarsson-Tremblay fooled, Jean-Uhtred Ragnarsson-Tremblay scores!
2;1154;It's his first goal this season...
CC3 baby goat for some rsn unsigned untendered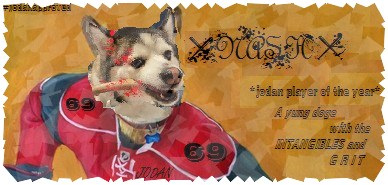 yuh


Lassi Suhonen
Something happened on the day he died. Spirit rose a metre and stepped aside.
Somebody else took his place, and bravely cried. I'm a blackstar, I'm a blackstar.
 a bottomless curse, a bottomless sea, source of all greatness, all things that be.
Xavier Doom
Users browsing this thread:
1 Guest(s)