Why You Should Draft Sotakov (2x)
DOUBLE MEDIA!!!
Fedor Sotakov opted for North American hockey a few weeks prior to the Season 58 SMJHL draft. Despite being a relative unknown, the Russian winger was selected 2nd overall by the Colorado Raptors. What does that tell us? Well, it tells the SHL general managers, or all people, that Fedor Sotakov is a special player.
SHL teams figuring out how to spend their 1st round pick(s) should look no further than this article. The below reasons are why your 1st round pick must be Fedor Sotakov.
Fedor's been here before.
The Colorado Raptors didn't just draft Fedor Sotakov, they traded up to the 2nd overall pick to make it happen. Fedor knew in his heart that he would be an early pick, but never did he imagine that his name would be the second called on SMJHL draft night. Regardless, Fedor didn't relent. He rose to the challenge by staring down the pressure that comes with being a top draft pick.
Many players have failed in that spot, but not Fedor. Fedor made it his mission to live up to the investment the Colorado Raptors made in his abilities.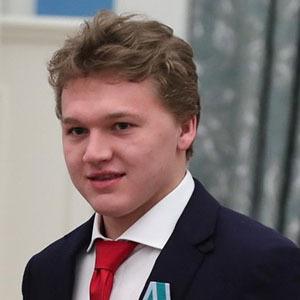 Fedor is extremely handsome.
Looking for ways to capitalize on those "Ladies night" promotions? Then what are you waiting for? Fedor Sotakov is known as the "Russian Sex Machine" on SMJHL message boards. This nickname grew legs after the Raptors rookie was rumored to have a new lady in his condo after every game. And although these claims have not been substantiated, there's no denying Fedor's popularity among female fans.
Fedor is ahead of his time.
The Russian exploded onto the Season 58 scene in leading the SMJHL in points among rookies. Colorado then moved Fedor to their top line a third of the way through the season. Some fans believe he cooled off as the season progressed, but the reality is Fedor's time in Colorado's top 6 saw him play against opposing player with upwards of two years' experience. Regardless, Fedor held his own against SHL send-downs (400+ TPE players) and continued to be one of the most productive rookie forwards in the SMJHL.
Fedor is clutch.
Look no further than his game-winning goal in Game 5 of the Colorado Raptors vs. Quebec City Citadelles semi-final matchup. The kid has ice water and vodka running through his Russian veins. There was also a time where Angus McFife XVIII forgot to put on deodorant before arriving at the arena and didn't have any in his locker. Fedor Sotakov answered the call to duty and provided his teammates with an extra stick of Old Spice that he carries in his bag.
Fedor wants to be involved.
Fedor remains willing to do whatever it takes to play. He was disappointed with Russia's inability to field their own World Junior Classic squad. He was more disappointed when URCORCAL's roster left no room for him to be included. Instead of sitting out, Fedor went on the offensive. He made several calls to the URCORCAL leadership that resulted in his being placed on the list of players available for loan. A few hours later, Team USA Red rostered Fedor and he will now proudly represent the country as a member of the American JV squad.
Fedor is good to have in a locker room.
While he's not the most outspoken teammate, Fedor is a great locker room guy. He gets along with everyone and can talk about anything. Throughout the season, teammates have enjoyed conversing with Sotakov on topics that include everything from bourbon, politics, and the Minnesota Wild.
Fedor is a media workhorse.
Although there's times his workload gets in the way, Fedor makes frequent appearances in the media and headlines. From writing articles for the Player's Tribune to giving radio interviews, Fedor does it all. He is truly one of the most marketable players in the game. Fans crave to know what's on his mind and he's not shy about letting them know.
Fedor is a budding scoring machine.
Fedor's 29 points in 66 games in his rookie season are just scratching the surface. He continues to work hard on his offensive attributes, focusing largely on his shooting accuracy, range, and passing skills. Fedor enjoys setting up teammates for goals just as much as he loves to bury biscuits in the back of the cage. Scoring sick goals and racking up points is fun hockey to watch and Fedor is all about giving the fans a show. SHL scouts are seeing his stick skills in workouts and his genuine love for inventing new ways to dummy defenders. Teams looking for a future league leader in scoring should get that "97 SOTAKOV" sweater ready now.
Fedor is good at shit we didn't think he'd be good at.
57 hits…40 shots blocked…what!? Sotakov posted 23 takeaways during the regulation season. This is a player that is not the least-bit defensive-minded but showed an ability to be stellar on the other end of the net. Fedor proved that he's willing to put himself out there and sacrifice his body to support his goalie. The kid also had an insane amount of penalty minutes due a game misconduct earlier in the year. When Anaheim players continuously delivered what Colorado felt were dirty hits along the boards, Fedor Sotakov decided to send a message.
Fedor offers excitement in what is unknown.
He's not a comeback player, nor is he the son or fourth cousin of a player from SHL past. Fedor Sotakov was virtual unknown before his entry into the Season 58 SMJHL draft, but he proved to Colorado that taking a chance on the new guy can pay off. With many SHL teams rumored to spend higher picks on players they are familiar with due to lineage, there is one team that will be wise enough to make an informed decision using the stats and analytics available to them. These are numbers that prove players like Fedor Sotakov have the SHL superstar potential worthy of being selected in the 1st round.
Draft Fedor Sotakov and you win, period.
**1060 words**
I'll Never forget the day Sotakov shared his Old Spice Stick with me. My shooting ability improved since I've used it, and that was only one time!
Character Page RD- Quarterback
Retired players:
Toki Wartooth
Drafted 6th round, 35th overall SMJHL by Kelowna
SMJHL S19 President Cup
Drafted 2nd Round, 21st Overall by Toronto North Stars
S35 Champion
-Nathan Explosion btw, semi-decent career but didn't keep track of it
How could you not be romantic about playing in Colorado?
#2 in the draft but #1 in my heart
04-03-2021, 06:33 AM
(This post was last modified: 04-03-2021, 06:34 AM by ProjectSaint.)
RESO:
Fedor is royal
Russian Tsar playing on ice
Draft him or gulag
Sig Credit: Flappy (EVO) and Skolpaddor (RESO)
EMEKA VALENTINE-OKOLI/PLAYER
ACHIEVEMENTS:
First SMJHL Goal: Colorado Raptors, Emeka Valentine-Okoli 1 (Mikelis Ozoliņš 4, Loki Odinsson 3) at 3:12, 2nd Period (GWG) /
SMJHL S47 Game 47 Day 12: Colorado Raptors vs Detroit Falcons
First SHL Goal: Texas Renegades, Emeka Valentine-Okoli 1 (Josef Kubinec 5, Ricky Spanish 4) at 16:23, 2nd Period /
SHL S51 Game 71 Day 16: Edmonton Blizzard vs Texas Renegades
LARRY FOULKE/International GM
ACHIEVEMENTS:
Eternal


, onwards we roll

Current Fight Song: Play ("Shut Up") - TEK.LUN]
Fedor for President of Russia
Code:
2;1154;Wrap-around try by Jean-Uhtred Ragnarsson-Tremblay...
2;1154;Ragnar-Alexandre Ragnarsson-Tremblay fooled, Jean-Uhtred Ragnarsson-Tremblay scores!
2;1154;It's his first goal this season...
And none of this shit mattered because I was drafted behind a slew of players Sotakov outperformed. Maybe I need to retire and recreate. Is that how it works?
smh
04-05-2021, 04:37 PM

trella Wrote:

04-03-2021, 08:12 PM

DollaBill Wrote: And none of this shit mattered because I was drafted behind a slew of players Sotakov outperformed. Maybe I need to retire and recreate. Is that how it works?
smh

maybe u need to get behind a slew of bitches instead
Two day later... thanks
Users browsing this thread:
1 Guest(s)