The quest for my Hall of Fame card (part 2)
The quest for my Hall of Fame card (part 2)
After opening 50 packs the other day because I thought all my players were in. Well, I was wrong. Montagne had not been added after all. But she is there now, so going through some packs today.
And the first pack might aswell be called a jackpot with six cards all rated 81 and higher, with Kaarlo Kekkonen as the highest one in the pack as bonus 6th card. After the first few I did not expect the cards would go even higher. Might as well call it quits for the day as only a Hall of Fame card can give a better pack then this.
My suspicions were right as the next pack were 79 and lower cards. So time to counter jinx it by saying I will get a good pull next! Okay, tried it, but it didn't work. I'll quickly continue to pack number 4 of the day. And this is why gamblers always lose. Three packs in a row without an 80 rated card. Shame my great pack came in the first pack of the day, as it would be shitty to end the article like that. Pack number five gave me a great 27 rated card in Alex Genette of the Barracuda. Always fun. Glad to say there was also a 87 rated Tony Pepperoni card, so finally something decent to break the bad streak. The following pack had a Nathan Explosion 80 rated card, and another player from my start of the league, a 77 rated Adam Kylrad. I notice I'm not really in a writing mood, as I just don't have much to say about these packs, but another one with just a 79 as highest. I did finally pull a player older as my first player, a season 9 Willie Weber appeared. A 72 rating really does not do justice to the player he once was. A decent pack followed next, with Evangelos Giannopoulos, Nicolaj Muller and David Vent. Three lower rated Panthers appeared after, including Golden Face with who I shared the locker room with atleast before Vorian Atreides was shipped off to Tampa to retire.
Bad pack followed by another 87 rated today in Michael Withecheck, a guy I had in fantasy before! Withecheck followed op by Ambacas Cuddles, another nice card. But still no sign of my own players. Let's keep going. Eddy Ask Jr pops up, I forgot he existed, but Ask Sr. used to be on my team, so nice to see him pop up. Also another Nicolaj Muller, but this time the Stampede version. Another Stampede appeared after, and a 89 Nicholas Owens even! The next pack has Slap McShotty, an 86 rated Wolfpack card. And we might be getting closer to a pull of one of my own players, a player from Willems his draft class popped up, and you can see he retired before me, as he is not as regressed as my player in these cards. John Langabeer has an 84 rated card, compared to Willems his 70. The following pack, we finally hit gold again. And 89 rated Cameron Carter II isn't the card I am most excited about, but we finally pulled one of my own players! An 80 rated Xander Green. The first one to check off my list!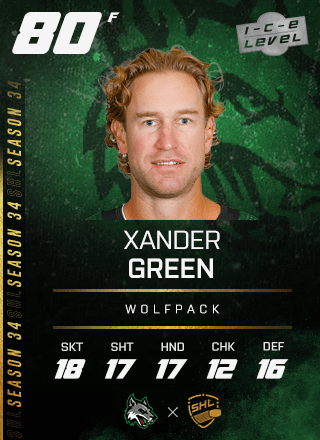 So the quest for my cards after opening another bunch is as followed
[ ] Ivo Willems
[ ] Ivo Willems HOF
[x] Xander Green
[ ] Vorian Atreides
[ ] Rebecca Montagne
Onwards to my next pulls the next time!
Update Thread
-
Player Page
Update Scale
Former players:
Ivo Willems (S9 SMJHL) (S10-28 SHL)  
Xander Green  (S33-35 SMJHL) (S36-47 SHL)
Vorian Atreides (S49-51 SMJHL) (S52-61 SHL)


Users browsing this thread:
1 Guest(s)