Esa Parmborg Updates
02-14-2019, 06:30 PM
(This post was last modified: 04-10-2019, 11:08 PM by Steelhead77.)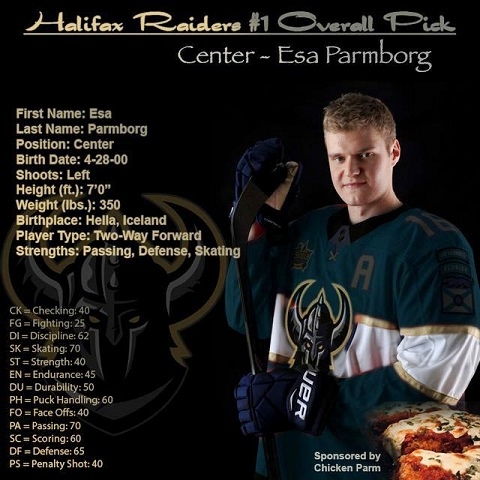 TPE: 333
CK = Checking: 40
FG = Fighting: 25
DI = Discipline: 62
SK = Skating: 75
ST = Strength: 50
EN = Endurance: 60
DU = Durability: 50
PH = Puck Handling: 73 3/4
FO = Face Offs: 60
PA = Passing: 80
SC = Scoring: 70
DF = Defense: 72
PS = Penalty Shot: 40
--
500k Training -
http://simulationhockey.com/showthread.p...pid2576209
+3 uncapped
500K Training -
http://simulationhockey.com/showthread.p...pid2579597
+3 uncapped
AC 250 -
http://simulationhockey.com/showthread.p...pid2576212
+2 uncapped
AC 251 -
http://simulationhockey.com/showthread.p...pid2579590
+2 uncapped
Equipment & 2tpe Re-Distribution-
http://simulationhockey.com/showthread.p...pid2576440
+4 Scoring, +4 Puck Handling, +4 Passing, +4 Endurance, +2 Strength, +2 Anything (+20 total)
S46 TTC -
http://simulationhockey.com/showthread.p...pid2582385
+10 Defense
Interested Prospect TPE Claim -
http://simulationhockey.com/showthread.p...pid2585221
+5 uncapped
+6 Scoring (60 - 63)
+10 Puck Handling (60 - 65)
+12 Passing (70 - 73)
+5 Endurance (45 - 50)
+2 Strength (40 - 42)
+10 Defense (65 - 70)
TPE: 155 + 45 = 200
#1 All-Time SHL Goal & Point Scorer
- First 2,000 TPE Player in SHL History - 
- First 400 Goal Scorer in SHL History -
- Only 500 Goal Scorer in SHL History -
- First GM to Win 5 & 6 Challenge Cups -
Esa Anrikkanen Award - SMJHL ROY - Est. S34
Vidrik Onoprienko Award Winner - S45






02-25-2019, 01:34 AM
(This post was last modified: 02-25-2019, 05:40 PM by Steelhead77.)
S46 Mock Draft PT -
http://simulationhockey.com/showthread.p...pid2585280
+4 + 3 uncapped (+7 total)
Activity Check 252 -
http://simulationhockey.com/showthread.p...pid2586521
+2 uncapped
500K Training -
http://simulationhockey.com/showthread.p...pid2586523
+3 uncapped
+8 Passing (73 - 75)
+4 Scoring (63 - 65)
TPE: 200 + 12 = 212
#1 All-Time SHL Goal & Point Scorer
- First 2,000 TPE Player in SHL History - 
- First 400 Goal Scorer in SHL History -
- Only 500 Goal Scorer in SHL History -
- First GM to Win 5 & 6 Challenge Cups -
Esa Anrikkanen Award - SMJHL ROY - Est. S34
Vidrik Onoprienko Award Winner - S45






03-04-2019, 08:05 AM
(This post was last modified: 03-08-2019, 01:08 PM by Steelhead77.)
500K Training -
http://simulationhockey.com/showthread.p...pid2590262
+3 uncapped
AC 253 -
http://simulationhockey.com/showthread.p...pid2590263
+2 uncapped
S46 PT 1 -
http://simulationhockey.com/showthread.p...pid2590689
+4 uncapped
S46 PGS Claim Wk 1 -
http://simulationhockey.com/showthread.p...pid2591038
+3 capped
S46 PGS Claim Wk 2 -
http://simulationhockey.com/showthread.p...pid2591965
+3 capped
S46 PGS Claim Wk 3 -
http://simulationhockey.com/showthread.p...pid2591965
+3 capped
+8 Skating (70 - 72)
+10 Puck Handling (65 - 70)
TPE: 212 + 18 = 230
PGS Cap: 9/15
#1 All-Time SHL Goal & Point Scorer
- First 2,000 TPE Player in SHL History - 
- First 400 Goal Scorer in SHL History -
- Only 500 Goal Scorer in SHL History -
- First GM to Win 5 & 6 Challenge Cups -
Esa Anrikkanen Award - SMJHL ROY - Est. S34
Vidrik Onoprienko Award Winner - S45






500K Training -
http://simulationhockey.com/showthread.p...pid2593572
+3 uncapped
AC 254 -
http://simulationhockey.com/showthread.p...pid2593573
+2 uncapped
S46 PT 2 -
http://simulationhockey.com/showthread.p...pid2592688
+4 uncapped
+9 Scoring (65 - 69 1/2)
TPE: 230 + 9 = 239
PGS Cap: 9/15
#1 All-Time SHL Goal & Point Scorer
- First 2,000 TPE Player in SHL History - 
- First 400 Goal Scorer in SHL History -
- Only 500 Goal Scorer in SHL History -
- First GM to Win 5 & 6 Challenge Cups -
Esa Anrikkanen Award - SMJHL ROY - Est. S34
Vidrik Onoprienko Award Winner - S45






03-17-2019, 06:55 PM
(This post was last modified: 03-24-2019, 08:16 PM by Steelhead77.)
PGS Week 4 -
http://simulationhockey.com/showthread.p...pid2596017
+3 capped
S46 PT 3 -
http://simulationhockey.com/showthread.p...pid2595880
+4 uncapped
AC 255 -http://simulationhockey.com/showthread.php?tid=94546&pid=2596686#pid2596686
+2 uncapped
500K Training -
http://simulationhockey.com/showthread.p...pid2596687
+3 uncapped
PGS Week 5,6,7 - http://simulationhockey.com/showthread.p...pid2598690
+3 capped

+1 Scoring ( 69 1/2 - 70)
+12 Skating (72 - 75)
+2 Banked (0 - 2)
TPE:  239 + 15 = 254 (2 Banked)
PGS Cap: 12/15
#1 All-Time SHL Goal & Point Scorer
- First 2,000 TPE Player in SHL History - 
- First 400 Goal Scorer in SHL History -
- Only 500 Goal Scorer in SHL History -
- First GM to Win 5 & 6 Challenge Cups -
Esa Anrikkanen Award - SMJHL ROY - Est. S34
Vidrik Onoprienko Award Winner - S45






@
Steelhead77
I was only able to add 12 to your total. Were unable to process requests for PGS that haven't been reviewed by the PGS team yet. So I did your +12 to skating. Pm me if you want something changed for your update. Your total TPE is 251.
03-24-2019, 08:16 PM
(This post was last modified: 03-25-2019, 08:16 PM by Steelhead77.)
No worries, thanks man.  I'll re-post the PGS claim in this new update.
Via pm, Scoring was adjusted to 70. Skating remains 74 3/4. PGS caps remains at 12/15.
PGS Week 5,6,7 -
http://simulationhockey.com/showthread.p...pid2598690
+3 capped
S46 PT 4 -
http://simulationhockey.com/showthread.p...pid2599520
+4 uncapped
S46 Fantasy Claim -
http://simulationhockey.com/showthread.p...pid2598940
+1 uncapped
AC 256 -
http://simulationhockey.com/showthread.p...pid2600626
+2 uncapped
500K Training -
http://simulationhockey.com/showthread.p...pid2600627
+3 uncapped
+1 Skating (74 3/4 - 75)
+12 Passing (75 - 78)
TPE: 251 + 13 = 264
PGS Cap: 15/15
#1 All-Time SHL Goal & Point Scorer
- First 2,000 TPE Player in SHL History - 
- First 400 Goal Scorer in SHL History -
- Only 500 Goal Scorer in SHL History -
- First GM to Win 5 & 6 Challenge Cups -
Esa Anrikkanen Award - SMJHL ROY - Est. S34
Vidrik Onoprienko Award Winner - S45






04-01-2019, 07:02 AM
(This post was last modified: 04-02-2019, 09:00 AM by Steelhead77.)
AC 257 -
http://simulationhockey.com/showthread.p...pid2602887
+2 uncapped
500K Training -
http://simulationhockey.com/showthread.p...pid2602886
+3 uncapped
S46 PT5 -
http://simulationhockey.com/showthread.p...pid2603512
+4 uncapped
+5 Passing (78 - 79 1/4)
+4 Strength (42 - 46)
TPE: 264 + 9 = 273
PGS Cap: 15/15
#1 All-Time SHL Goal & Point Scorer
- First 2,000 TPE Player in SHL History - 
- First 400 Goal Scorer in SHL History -
- Only 500 Goal Scorer in SHL History -
- First GM to Win 5 & 6 Challenge Cups -
Esa Anrikkanen Award - SMJHL ROY - Est. S34
Vidrik Onoprienko Award Winner - S45






04-10-2019, 10:05 PM
(This post was last modified: 04-13-2019, 11:04 AM by Steelhead77.)
AC 258 -
http://simulationhockey.com/showthread.p...pid2610517
+2 uncapped
1M Training -
http://simulationhockey.com/showthread.p...pid2610519
+5 uncapped
SMJHL PT6 -
http://simulationhockey.com/showthread.p...pid2607602
+4 uncapped
S47 TTC -
http://simulationhockey.com/showthread.p...pid2610568
+21 uncapped
S47 Equipment -
http://simulationhockey.com/showthread.p...pid2610519
+3 Puck Handling, +3 Passing, +3 Face Offs, +3 Strength, +2 Endurance (re-distributed 14tpe)
S47 Recruitment Upvote -
http://simulationhockey.com/showthread.p...pid2611225
+1 uncapped
S47 PT - S46 Predictions -
http://simulationhockey.com/showthread.p...pid2612563
+3 capped, +6 uncapped (+9 total)
+70 total
+3 Passing (79 1/4 - 80)
+20 Parm Handling (70 - 75)
+20 Face Offs (40 - 60)
+4 Strength (46 - 50)
+10 Endurance (50 - 60)
+8 Defense (70 - 72)
+5 Banked (0 - 5)
TPE: 273 + 70 = 344 (5 Banked)
S47 Cap: 3/40
#1 All-Time SHL Goal & Point Scorer
- First 2,000 TPE Player in SHL History - 
- First 400 Goal Scorer in SHL History -
- Only 500 Goal Scorer in SHL History -
- First GM to Win 5 & 6 Challenge Cups -
Esa Anrikkanen Award - SMJHL ROY - Est. S34
Vidrik Onoprienko Award Winner - S45






Users browsing this thread:
1 Guest(s)