The Player's Tribune - The Beginning
Something in the air has changed this season, and it's something that has been long awaited in San Francisco. Gone are the hopes of winning a couple games and hoping that prospects are going to turn out, and in is the feeling of a hungry fan-base. A fan-base that has been denied too long.
The Pride started the season strong, with the young guns starting to turn the corner and really show what this team can turn into in the coming years. They came out strong, and immediately the city began to think 'Is this the year where the curse is shaken and the Pride can make it to the playoffs?". It was a tough season, but in the end, we got the birth.
I've dreamed about this moment for years. Even since before San Francisco had a team. Being that young boy in Antigonish, Nova Scotia, spending hours in the driveway shooting a ball, putting myself in the moments of SHL greats. I hope that I become that to some kid, and that growing up I'll inspire some kids play, do something wild that sticks with them the rest of their lives.
This is one of the moments that I've worked tirelessly for my whole life, and I hope it becomes but a milestone in a career for me. Got drafted, made the team, scored some goals, and now made playoffs. I hope that my story doesn't end at that last point, and ends with some cups, but only time will tell. I'm confident that with this Pride squad we can make this happen in the coming years.
That brings us to today. In a gap day between the regular season and playoffs I'm looking back reflecting on where this team has come from, and where we are today. There's still a long road to go to see the success that this team can have, but damn. Is it ever going to be nice to step into the arena for our first game at home and hear that crowd behind us, going bananas for the playoffs.
We've had our ups and downs. Disappearances, trades, people leaving in free agency, but we're still here with a good crew who stuck it out knowing that this team could become a playoff team, and a bunch who still know that we can't rest on our laurels at this point. We only just made the playoffs, and we all want to consistently be competing for that crown.
This is only the beginning for the Pride, and I hope everyone straps themselves in for what could be a wild ride. We have a ton of young talent, and will be looking to take it to every team, every game we play. This will start with Texas, and we'll take it as far as we can. I have a ton of faith in the team, and I know that we've shown this year that we're no longer that bottom feeder team looking for the draft lottery. We're looking to win. The season doesn't end with playoffs. This is where the true season begins.
I just have one question.
San Francisco, are you with me?
Ya I'm with you, I play in your line ya doof
#upsetfuckera
Winnipeg Jets GM

IIHF Team Norway

05-17-2019, 02:48 PM
(This post was last modified: 05-17-2019, 02:48 PM by bluesfan55.)
i was on that last team to make the playoffs
we won the presidents trophy then lost in 5 to calgary in the first round





"28 is fucking old you fucking moron" - @
bluesfan55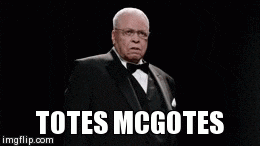 CURRENT:


| ALUMNI:

_________TRANSACTIONS_________
Drafted 49th overall in the S30 SMJHL Entry Draft  by KEL 1Y/$2Mil
Drafted 20th overall in the S31 SHL Entry Draft by POR 3Y/$6Mil
Resigned w/ Portland 3Y/$12 Mil (S34-S36)
Resigned w/ San Francisco 1Y/$4 Mil (S37)
Resigned w/ San Francisco 3Y/$12 Mil (S38-S40)
Resigned w/ San Francisco 3Y/$9 Mil (S41-S43) Hometown Discount 
Traded to Edmonton Blizzard S43
_________ REGULAR SEASON_________
SMJHL S30 KEL - GP: 50 || G: 8 || A: 11 || PTS: 19 || +/-= -3 || HITS: 53 || SHOTS: 69
SMJHL S31 KEL - GP: 50 || G: 16 || A: 32 || PTS: 48 || +/-= 15 || HITS: 28 || SHOTS: 148
SHL S32 POR - GP: 50 || G:12 || A: 20 || PTS: 32 || +/-= -14 || HITS: 43 || SHOTS: 128
SHL S33 POR - GP: 50 || G: 5 || A: 16 || PTS: 21 || +/-= -2 || HITS: 6 || SHOTS: 85
SHL S34 POR - GP: 50 || G: 12 || A: 16 || PTS: 28 || +/-= 18 || HITS: 52 || SHOTS: 87
SHL S35 POR - GP: 50 || G: 19 || A:21 || PTS: 40 || +/-= 6 || HITS: 30 || SHOTS: 114
SHL S36 POR - GP: 0 || SUSPENDED by HO
SHL S37 SFP - GP: 50 || G: 13 || A: 30 || PTS: 43 || +/-= 9 || HITS: 16 || SHOTS: 188
SHL S38 SFP - GP: 50 || G: 22 || A: 36 || PTS: 58 || +/-= 27 || HITS: 14 || SHOTS: 186 || Pres. Trophy
SHL S39 SFP - GP: 50 || G: 23 || A: 27 || PTS: 50 || +/-= -10 || HITS: 27 || SHOTS: 220   
SHL S40 SFP - GP: 50 || G: 29 || A: 30 || PTS: 59 || +/-= 8 || HITS: 71 || SHOTS: 228  
SHL S41 SFP - GP: 50 || G: 27 || A: 24 || PTS: 51 || +/-= -12 || HITS: 92 || SHOTS: 192  
SHL S42 SFP - GP: 50 || G: 21 || A: 34 || PTS: 55 || +/-= -11 || HITS: 53 || SHOTS: 208  
SHL S43 EDM - GP: 50 || G: 14 || A: 20 || PTS: 34 || +/-= -1 || HITS: 11 || SHOTS: 156  
_________ PLAYOFFS_________
SMJHL S30 KEL - GP: 10 || G: 1 || A: 2 || PTS: 3 || +/-= 0 || HITS: 13 || SHOTS: 45
SMJHL S31 KEL - GP:16 || G: 5 || A: 10 || PTS: 15 || +/-= 5 || SHOTS: 51 || CHAMPS
SHL S34 POR - GP:17 || G: 6 || A: 11 || PTS: 17 || +/-= 6 || SHOTS: 35 || WEST CHAMPS
SHL S35 POR - GP:19 || G: 8 || A: 8 || PTS: 16 || +/-= 3 || SHOTS: 46
SHL S38 SFP - GP:5 || G: 5 || A: 4 || PTS: 9 || +/-= -2 || SHOTS: 17
_________TRANSACTIONS_________
Drafted 7th by the Halifax Raiders
Auto-Drafted 2nd Round (Co-GM) by the San Francisco Pride
_________ REGULAR SEASON_________
SMJHL S43 HAL - G: 5 || A: 12 || PTS: 17 || +/-= 2 || SHOTS: 23 || HITS: 20 || SB: 50 || MP: 882
SHL S44 SFP - G: 3 || A: 11 || PTS: 14 || +/-= -15 || SHOTS: 40 || HITS: 57 || SB: 87 || MP: 1096
SHL S45 SFP - G: 2 || A: 13 || PTS: 15 || +/-= -15 || SHOTS: 28 || HITS: 34 || SB: 50 || MP: 775
SHL S46 SFP - G: 3 || A: 12 || PTS: 15 || +/-= -18 || SHOTS: 66 || HITS: 48 || SB: 45 || MP: 869
SHL S47 SFP - G: 11 || A: 18 || PTS: 29 || +/-= -1 || SHOTS: 62 || HITS: 77 || SB: 62 || MP: 1059
SHL S48 SFP - G: 9 || A: 31 || PTS: 40 || +/-= -4 || SHOTS: 93 || HITS: 79 || SB: 41 || MP: 1001
_________ AWARDS & MEDALS_________
S43 World Junior Championship -  Bronze Medal
I'm with you! #upsetfuckera
05-17-2019, 02:48 PM

bluesfan55 Wrote: i was on that last team to make the playoffs
we won the presidents trophy then lost in 5 to calgary in the first round
S38 playoffs were a sad time
Users browsing this thread:
1 Guest(s)