Tampa Bay Gearing Up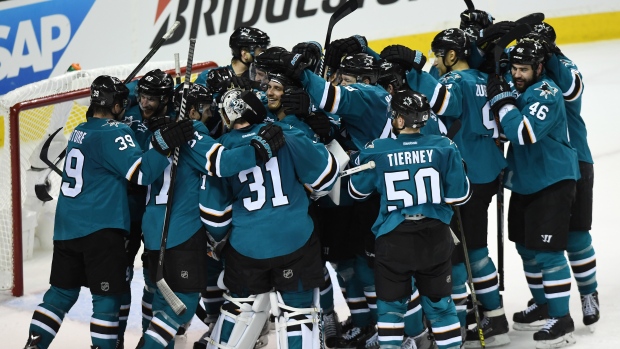 Tampa Bay Barracuda fans have a lot to be excited for as S48 draws ever closer. With the draft concluding, the team added a number of youngsters to their talent pool and have continued to shape themselves for the future. With a new team identity already created from where they were just a few short seasons ago, the Barracuda look more like a playoff team than they have in a long time, and with continuous development from their young core, they're going to be an absolute threat in no time at all. Today we'll be taking a look at which of their players is going to be the most important heading into this season.
Flaco Lagerfield - @JSS
TPE: 1,466
No one should be surprised to see Lagerfield at the top of this list as the young winger/center hybrid has been absolutely crucial to the Barracuda' offense all through out his career. Currently sitting in the midst of his prime, Lagerfield has all the superstar power the Barracuda could need to have a brilliant season, and with a great supporting cast he is more than ready to take on the majority of the work again this season. As the team builds around him, Lagerfield will only continue to get better, and it's going to be an absolute ball watching him grow as a player.  
Nolan Sawchuk - @Jepox
TPE: 711
The Barracuda's youngest star power comes in the form of Nolan Sawchuk, who enters his second season in the league with Tampa Bay. Sawchuk lead an incredible career down with the Kelowna Knights of the SMJHL and was a game changer for the Team DACH in the World Junior Championships, preparing him to play at the highest of levels and really shine. Sawchuk already had a strong rookie season which set the bar for him in the rest of his career, and will look to build on that this season from off the first line alongside Lagerfield. He's the main supporting cast in an already bright future.
Nickolas Klaus - @Noble
TPE: 605
Nickolas Klaus is the newest addition to the Tampa Bay roster as he was signed by them through free agency to slot in on their third line at center. While bottom six players don't typically play important roles in their team's offense, Klaus is one of the most deadly players in the league (with the SMJHL records to prove it). Joining the team at only 21 years old on the third line, Klaus has plenty of time to develop into a superstar and someday fill the role between Sawchuk and Lagerfield on the first line. While his rookie season was nothing at special at 19 points, this will be his year to prove that he can be better.
Kristaps Ball - @jcfbey01
TPE: 960
Ball returns to the fold as the Barracuda's number one defense man this season and for good reason as he has continued to become an elite talent at the blue-line. Ball is a major part of the S41 class that the majority of the Tampa Bay roster is built on, but shines as one of the team's core members from his position at number one. Ball can be a contributor on both ends of the ice, but has a heavy tendency towards offensive play with a sweet slap shot he can utilize from the point, or sleek passing skills to open up space on the ice and create some amazing goals.
Benjamin Blue - @boucher277
TPE: 998
Benjamin Blue is the biggest "what if" on the Tampa Bay roster today. The S41 goaltender has seen his fair share of starts in Tampa Bay since being drafted, and despite progressing into a talented goaltender has had to suffer from a lack of defensive depth in front of him. Past Ball and Maui, the defense has been lackluster at best, but Blue continues to be a strong netminding option. A big year from Blue could spell a winning season for the Barracuda, and here in Tampa Bay, that's all we want.
Matt Kholin - @Kalakar
TPE: 659
Matt Kholin is without question one of the most exciting young players in the game today. Kholin will enter his rookie season playing second line minutes for the Barracuda along side Alex Andani (@
Carbine
) and David Fantobens (@
Fantobens
) in what will be a solid second line offensively. With three years of experience in the SMJHL under has belt, Kholin is already one of the top young players in the game of today and will be looking to make an immediate major impact on the Barracuda. As a part of their young core moving forward, it will be no surprise to anyone to see him be a dynamic two way threat right off the bat.
Along with the six core members of the team moving into this season, the Barracuda have a number of hungry young prospects on a team that is already chalk full of incredible youth. Here are some future prospect watches.
Gunnar Soderberg - @sköldpaddor
TPE: 477 
Soderberg has been fantastic down with the Kelowna Knights of the SMJHL so far during his career, and has all the makings of an elite SHL player. Playing at the wing, Soderberg will be a major part of the Barracuda's rebuilding plan as he will likely make the jump up to the pro roster next season to play third line minutes alongside Nickolas Klaus. With a rounded out defensive and play making ability, Soderberg will contribute as a major two way piece for the young Tampa Bay team.
Olivier Clouthier - @Jenny
TPE: 630
Many were surprised to see Clouthier not get the nod up to the pro roster this season as he is an extremely talented winger, selected 3rd overall two seasons ago to the Barracuda. While Clouthier certainly has the ability to perform at the top level, the Barracuda's management team has opted to allow their future superstar another season to develop down in the minors before officially making the call up to the professional scene. Clouthier is an exciting sniping wnger who doesn't shy away in the defensive end, and will likely see time on the second or third line season.
Kaspars Claude - @Bruins10
TPE: 348
Claude addresses a major hole in the Tampa Bay roster moving forward at defense, and does it in a spectacular fashion. Selected only a short week ago in the S48 SHL Entry Draft, Claude is a fresh faced young star who will be crucial towards the Barracuda's rebuild plan. While most defenseman tend to stick to the physical play in their own end, Claude is able to make an impact all across the ice with great skating ability, stellar passing, and outstanding defensive awareness. Once Claude makes it to the big leagues, opposing teams should be on guard. 
Joln DuBolk - @MCP_
TPE: 557
Joining Claude in the defensive prospect system is S46 draftee Joln Dubolk who is further along in his development than most of his peers. Dubolk is a seasoned SMJHL veteran, heading into his fourth season down in the juniors, but that doesn't mean he isn't pro ready. DuBolk has opted to take his time in coming up to the pro leagues, developing defensive and physical play to quickly become one of the scariest players for a forward to match up against down in the corner. DuBolk will need to prepare for the fast paced SHL though, where his lack of two way performance will be an unfortunately strong indicator of success.

First Ever SHL Goal:
Code:
5. New England Wolfpack , Kristaps Ball 1 (Piotr Czerkawski 1, Cameron Dubois 2) at 16:27
First Ever Hat Trick:
Code:
S45 Game 46 NEW vs TOR
6. New England Wolfpack , Kristaps Ball 1 (Artemi Berezin 3, Tigole Bitties 5) at 5:21
9. New England Wolfpack , Kristaps Ball 2 (Artemi Berezin 4) at 18:58
10. New England Wolfpack , Kristaps Ball 3 (Tigole Bitties 7, Manuel Gotze 2) at 19:38 (Empty Net)

@ml002 threatens me daily

™
13:17 of 1st period - Goal by Nolan Sawchuk - Tampa Bay Barracuda : 3 - Manhattan Rage : 0




Thanks for the mention man, feels good to be noticed as a part of the organization and to have an impact in it. Cant wait to finally be able to be out there with the Barracudas
THREEPEAT FOUR STAR CUP CHAMPION
-
S48 VANCOUVER WHALERS
,
S49 MONTREAL MILITIA
,
S50 CAROLINA KRAKEN
S54 CHAMPIONS CUP - NOLA SPECTERS
Thanks to @Wasty and @Turd Ferguson for the sexy Signature
Thanks for the kind words! Great article!


lmao, can't wait to torch this team
No mention from my own team...
This will be my last season in


Wrong boucher
Thank you ML and Jss and sköldpaddor!
08-12-2019, 08:20 PM

karlssens Wrote: Finishing the regular season with a sparkling 27 wins, 0.919 save percentage and 2 shutouts, by

unanimous

decision we have…



Benjamin Blue!



Hell of a season for the veteran netminder out of Tampa Bay @BoucherFan12
Users browsing this thread:
1 Guest(s)